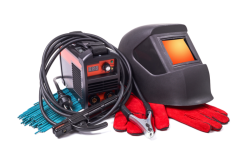 Welding, Soldering & Plasma
A S Supplies stocks a strong range of welding consumables and equipment primarily focused on MIG welding. Common consumables such as contact tips, welding electrodes and wire are readily available in-store or online. We can also order in more types of wires and electrodes for other more specific uses upon request, as well as other equipment in general.
Furthermore, we also have access to a wide-range of welders - both MIG and TIG – for purchase. From known and reliable brands like Jasic or Sealey, we are ready to supply quality welding goods for all your welding needs.